Tagging Mount Waumbek was our first experience with sunrise hiking in winter. We started in the dark, relying on headlamps and a broken out trail from the season's dedicated hikers before us. As we approached the summit, we saw one of the most beautiful sunrises over the Presidential Range that made the early wake-up and below freezing temperatures worth it. 
| | | |
| --- | --- | --- |
| Segment Distance | Total Distance | Route Description |
| 0 mi | 0 mi | Start at Starr King Trailhead |
| 2.8 mi | 2.8 mi | Starr King Trail to Mt. Starr King |
| 0.8 mi | 3.6 mi | Stay on Starr King Trail to summit of Mt. Waumbek (continue just past the summit on Kilkenny Ridge Trail to a good viewpoint) |
| 0.8 mi | 4.4 mi | Starr King Trail back to Mt. Starr King |
| 2.8 mi | 7.2 mi | Starr King Trail back to parking lot |
Our grand plan was to bag Cabot and Waumbek in the same day. But, the fates had something different in mind for us. After finishing Cabot, our Toyota Prius got stuck trying to drive up to Waumbek's trailhead parking lot. With the help of fellow hikers, we pushed our car out of the snow, but took this as a sign that that day wasn't the day for Waumbek. The next morning, we got to the trailhead a little before 5:30am and parked in the parking lot across the street after learning from our earlier parking woes. For all of the rest of you sedan drivers out there: if you are hiking in winter, just park across the street. It doesn't add much mileage! 
Waumbek is a relatively short, straightforward hike with a gradual ascent. There are no turns or decisions to make, which is perfect for a sunrise hike, because the darkness adds a number of challenging elements. 
With headlamps and microspikes on, we could not hear anything but the snow crunch under our feet and could not see anything but a few steps in front of us. In some ways, it was horrifying. The darkness crept around us and hid the mysteries and critters of the night. Chipmunks scurrying across the snow sounded like a snow monster. I was reluctant to stop because I was scared of what lurked behind the trees. 
But after 30 minutes or so, it became more freeing and meditative. With nobody around us, we hiked at our own pace and really got into our individual flow. As the trail got a bit steeper, we approached Mt. Starr King and gained the morning's first glimpse of a lavender and pink sky. 
We continued hiking towards Waumbek on an undulating trail through the woods, passing an old chimney that we were too cold to take a picture of along the way. The colors of the sky only got more vibrant as we kept walking.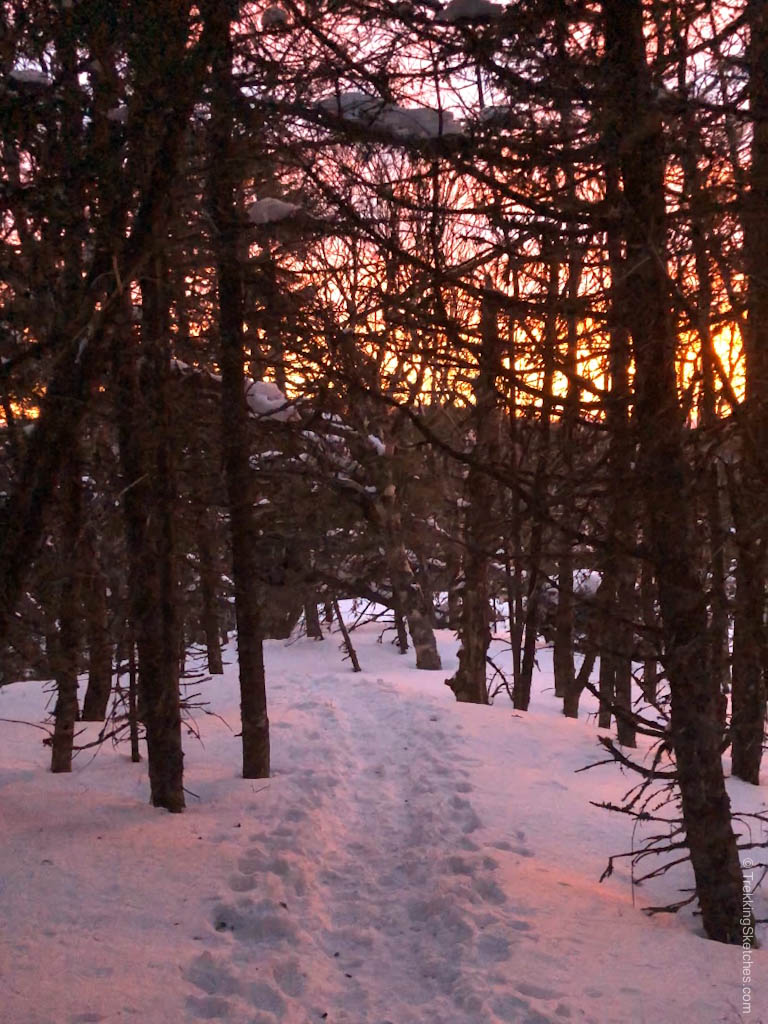 Just past the summit, we took Kilkenny Ridge Trail to a clearing in the woods to find a fiery sky of orange, purple, and pink over the snow-capped Presidential range. This sunrise was breathtaking and even more memorable because it came at the end of our first winter hike in the dark. The descent went quickly. Jubilant from our accomplishment and also aware of an impending snowstorm, we practically ran down the mountain and started the now all-too familiar drive back to Boston.