On a beautiful summer day, we completed our 48 4,000 foot journey on Owl's Head. From the beginning of our 48 4,000 foot journey, we heard about the underwhelming nature of Owl's Head due to its long and flat Lincoln Woods section and steep climb to a wooded summit. But, instead of dreading Owl's Head or letting it be our bane, we decided to end on it in celebration! Don't be deterred by the mileage, the majority of the hike is not strenuous. You could also do this one in a one-night backpacking trip, as there are plenty of great backwoods camp spots along the way. 
| | | |
| --- | --- | --- |
| Segment Distance | Total Distance | Route Description |
| 0 mi | 0 mi | Start at Lincoln Woods Trailhead |
| 3 mi | 3 mi | Take Lincoln Woods Trail to Franconia Brook Trail |
| 1.7 mi | 4.7 mi | Franconia Brook Trail to Lincoln Brook Trail |
| 3.4 mi | 8.1 mi | Lincoln Brook Trail to Owl's Head Path (slide) |
| 1.1 mi | 9.2 mi | Up Owl's Head Path to the summit of Owl's Head Mountain (new summit a little further than older maps might indicate) |
| 1.6 mi | 10.8 mi | Down Brutus Bushwhack to rejoin Lincoln Brook Trail (easy to follow down, I wouldn't want to take it up though) |
| 3 mi | 13.8 mi | Lincoln Brook Trail back to Franconia Brook Trail |
| 1.7 mi | 15.5 mi | Franconia Brook Trail back to Lincoln Woods Trail |
| 3 mi | 18.5 mi | Lincoln Woods Trail back to parking lot |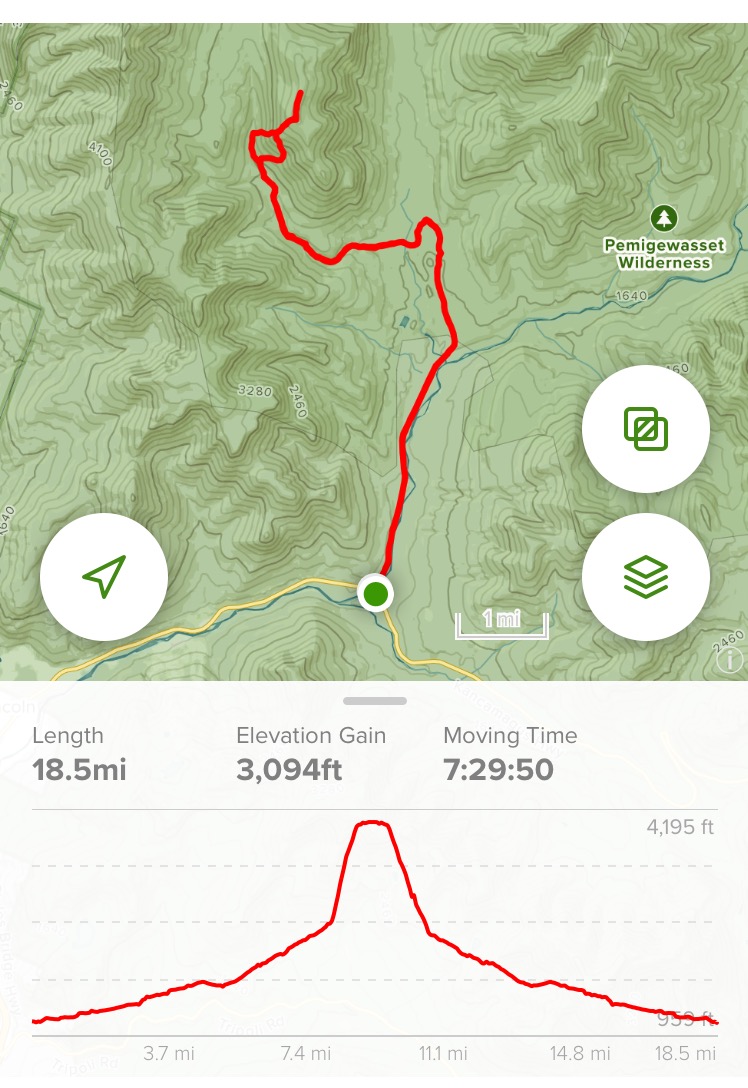 We camped at Russell Pond campground to get an early start on Saturday morning. Russell Pond campground is $25 a night and offers a convenient location and nice campsites. Try to nab a spot right by the water (G sites) and you will get these beautiful sunset views. We got up there on a Friday afternoon in September and had no difficulty finding a place. 
On Saturday morning, it drizzled lightly on the way to Lincoln Woods, but as soon as we parked and started walking over the bridge, the rain let up, the clouds parted, and the sun came out. The flat, 8-mile lead-in begins with the Lincoln Woods Trail, an old logging railroad, and is exactly what is expected. Quick, easy walking that allows for meditation and flow. After 3 miles, we turned left onto Franconia Brook Trail. 
There are a few stream crossings that may cause a moment of pause, but pick your route carefully and you will be just fine. Look at weather reports in advance of your hike to see if it rained and if the streams are uncrossable. You can also check the streamflow conditions for New Hampshire, published by the USGS.
After miles of flat, we got to the slide, which is an extremely steep section up to the summit. Make sure to turn around every once and awhile, the view of Franconia Ridge is a pleasant surprise. When you get to the top, there is a decent amount of walking on flat ground until you get to an unassuming, tree-covered summit with a small cairn. There are no views, but when you tag your last peak of the 48 and there are fellow hikers around you to celebrate, it doesn't matter!
We sat down for lunch and a celebratory beer and before we knew it, we were surrounded by others hiking the 48: eating, laughing, chatting, and swapping stories. Everyone we spoke to congratulated us on finishing the 48 and shared where they were on their own journey. In jest, many were surprised to hear that we saved Owl's Head for last given its reputation. Meeting these fellow hikers made us feel a part of a hiking community and made our final 4,000 footer even more meaningful.  
On the way down, we turned left off of the trail and took the Brutus Bushwhack to avoid the steep section of the slide. The bushwhack marked by a boulder on the trail. Sometimes, people will add a small stack of rocks to mark it. The rest of the walk went quickly as we basked in the glow of tagging our last peak. The last few miles on Lincoln Woods does feel like it takes an eternity, but it is flat and not tough on the joints or muscles. We reminisced about all of our 4,000 foot hikes and talked about how much stronger we have grown, both physically and mentally, because of this journey. When we came to the Lincoln Woods section, we paused and reflected on how much easier the walk would be than it was when we finished the Pemi loop the year prior. When we crossed over the bridge, I took off my hiking boots, which were the first pair of hiking boots I had ever owned, and officially retired them. While this hike has a mixed reputation, it encompassed everything that we expected and hoped for: beautiful trails, solitude, and community.
Owl's Head Tips
This can definitely be done in one day, but if you like to camp, consider making this a fun backpacking trip – there are plenty of backcountry camping spots along Lincoln Brook Trail.

Check the weather to see how much it has rained – this may make stream crossings difficult and dangerous. You can also check

streamflow conditions for New Hampshire

. 

There are a couple bushwhack options for hiking Owl's Head:

Black Pond Bushwhack – take Black Pond Trail on the way in and continue north when the trail ends to meet up with Lincoln Brook Trail. This route avoids a couple of the river crossings.

Brutus Bushwhack – alternate to Owl's Path Slide. We took this route down from the summit. When hiking down, continue straight past the trail cairn where the main path turns right. Descend the slope and meet up with Lincoln Brook Trail.