Hiking the Presidential Range in one day, which includes the highest peak in the northeast — Mount Washington — was a daunting feat. But, it was perhaps the best day of hiking we've ever experienced. 
| | | |
| --- | --- | --- |
| Segment Distance | Total Distance | Route Description |
| 0 mi | 0 mi | Start at Appalachia Trailhead |
| 3.6 mi | 3.6 mi | Take Valley Way Trail up 3,550 feet of elevation gain to Madison Spring Hut (their site says 3.8 mi, but that doesn't match our tracking) |
| 0.5 mi | 4.1 mi | Gulfside Trail to summit of Mount Madison  |
| 0.5 mi | 4.6 mi | Gulfside Trail back to Madison Spring Hut |
| 0.7 mi | 5.3 mi | Star Lake Trail to summit of Mount Adams  (good wrong turn) |
| 2.2 mi | 7.5 mi | Lowes Path to the Gulfside Trail/Israel Ridge Path  |
| 0.4 mi | 7.5 mi | Mount Jefferson Loop to summit of Mount Jefferson  |
| 1.8 mi | 9.7 mi | Mount Jefferson Loop Trail to rejoin Gulfside Trail and continue to junction with Jewell Trail |
| 1.1 mi | 10.8 mi | Continue to Trinity Heights Connector to Mt. Washington |
| 0.2 mi | 11 mi | Trinity Heights Connector to summit of Mount Washington |
| 1.4 mi | 12.4 mi | Crawford Path to Lakes of the Clouds Hut Lakes of the Clouds Hut  |
| 0.3 mi | 12.7 mi | Mount Monroe Loop to summit of Mount Monroe |
| 2 mi | 14.7 mi | Crawford Path to Mount Eisenhower Loop to summit of Mount Eisenhower (bypassed Mount Franklin) |
| 1.7 mi | 16.4 mi | Crawford Path to Webster Cliff Trail to summit of Mount Pierce |
| 3 mi | 19.4 mi | Crawford Path down to finish at the AMC Highland Center |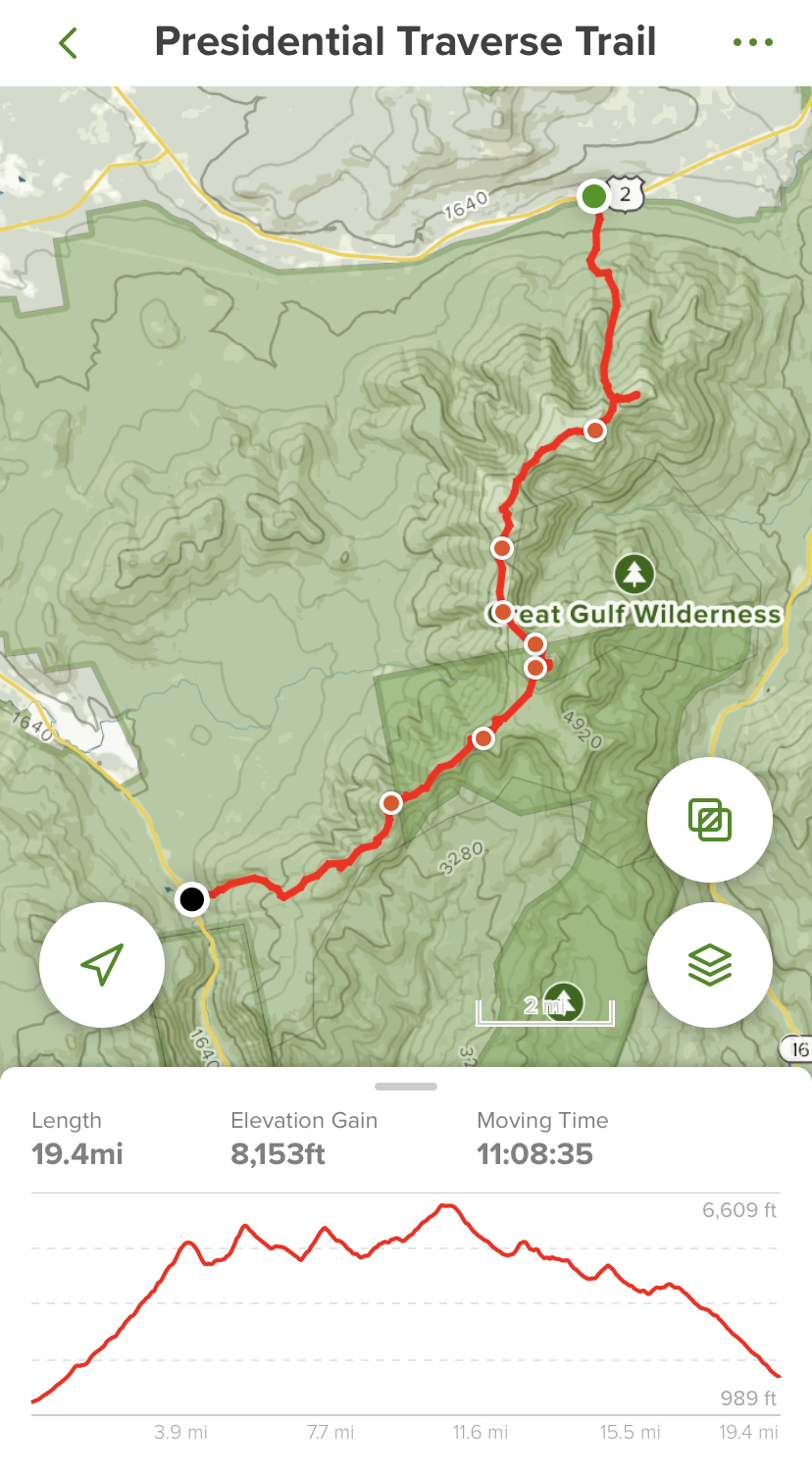 Hiking the Presi Traverse
We just finished walking the Camino Primitivo (one of the routes of the Camino de Santiago – check back soon for this post) and with strong legs and high stamina, we felt prepared to tackle this behemoth: the 1-day Presi traverse. With 7 peaks and more distance and elevation than we've ever covered in one stretch, we knew we were in for an epic day. This hike boasts physically demanding terrain and notoriously unpredictable, often dangerous weather. We watched the weather carefully all week and to our delight, saw that the anticipated rain was clearing and we would have a great day. Regardless, make sure you bring the right gear for all conditions no matter what the weather report says. The National Weather Service forecast for Mt. Washington is useful for this. We've compiled useful links on our NH48 Trip Reports and Weather Links page. You could also look at the Higher Summits Forecast from Mt. Washington Observatory.
We camped at Dry River campground the night before, which is conveniently located 10 minutes away from the AMC Highland Center, where you end the North to South Presi Traverse. We recommend hiking in that direction so that you get the big elevation of the Northern Presis behind you early in the day when your hiking legs are fresh. It makes a really tough hike just a little more doable.
This is the only hike of our 48 that we did with a friend, which was great, not only for the company but because this traverse requires that you have a car spot, take the AMC shuttle, or arrange a private transfer. Start this trek early. Even with long summer days, it can take a while and you may start and end in the dark. At 4am on Saturday morning we got to the AMC Highland Center, hopped into our friend's car, and drove to the Appalachia trailhead about 40 minutes away. 
Excited for the day, we parked our car, waved to fellow hikers in the parking lot, and started our trek with the sun rising. We hiked 3.6 miles on Valley Way Trail up a steady incline to Madison Spring Hut. With 3,550 ft of elevation gain already under our belts, we continued another 0.5 miles up Gulfside Trail and reached Mt. Madison around 8:00am. The ascent to the summit was steep and rocky, a good example of what the rest of the traverse would look like. There's no easy footing to be had in the Northern Presis! Heads literally in the clouds, our views from the summit were non-existent, but we were elated to tag our first peak of the traverse.
We descended and stopped at Madison Spring Hut for a short break (they have restrooms available and snacks for sale). Refueled and eager, we accidentally took a wrong turn onto Star Lake Trail toward Mt. Adams (the most popular way to summit Mt. Adams is to take Gulfside Trail from Madison Spring Hut). However, if you don't mind steep sections, this fortuitous mistake turned out to be one of our favorite sections of the entire traverse. When we looked back from this trail, we saw a small lake below us and Mt. Madison emerging from the grey haze. It was the type of scene that we hike for.
At about 9:40am, we got to a plateau of rocks and found Mt. Adams completely in the fog. We snapped a quick picture, did some route finding to get back to Gulfside trail, and continued 2.2 miles to Mt. Jefferson through the intermittent fog. The trek to Mt. Jefferson was not necessarily memorable, just rocky and steep (as expected), particularly the 0.4 miles push up the Jefferson Loop Trail. The summit was crowded with many groups taking a break there, so we took a 10 minute pause for a snack and moved on at around 11:25 am.
The fog was heavy as we descended from Mt. Jefferson, but soon dissipated and provided us with our first views of Mt. Washington. This gave us a little boost of energy with the highest peak so close in our sights. Continuing above treeline for about 3 miles, we followed the cairns topped with bright white quartz (they add visibility in poor weather), passed the Jewell Trail juncture, and climbed steadily up the summit cone of Mt. Washington. To save ourselves from more elevation, we bypassed the Mt. Clay loop that takes you to the summit of Mt. Clay, which is not a 4,000 footer, but apparently has great views of Mt. Washington. 
The views of the Great Gulf and the Northern Presis were astounding. I couldn't get enough of the landscape.
Hiking along this open boulder field next to the colorful Cog Railway and under the first rays of sunlight for the day made the 1.1 mile ascent feel deceptively short. We passed volunteers doing trail maintenance, crossed the tracks, and pushed up the final stretch of jumbled granite to join the line for a picture with the summit sign at around 1:30pm. The line was not as long as we expected and in a few short minutes, we had documented our time at the top of Mt. Washington alongside hordes of visitors who drove up. It was so rewarding to look back at the ground we covered.
Throughout our previous hikes completing the NH48, we had viewed Mt. Washington from almost every angle. From other summits and viewpoints, I would look out, see its imposing slopes with an array of peaks on its flanks, and smile to myself knowing that we would tackle this traverse one day. Now that day was finally here and we were standing atop the highest peak in the Northeast!
We took it all in for a few moments and then turned our attention to taking care of our bodies. It was time to refuel! Luckily, the Mt. Washington Observatory has a snack bar and gift shop. After some pizza, powerade, and conversation with fellow hikers, we felt ready to conquer the rest of the traverse. It was all downhill from there. Well, not actually, but we had the highest peaks and the toughest climbs in our rear view mirror.
After a leisurely 45 minute break, we descended Crawford Path around 2:15 pm, with the Lakes of the Clouds Hut and a beautiful view of Mt. Monroe in front of us. The morning fog had completely burnt off and we headed into a sun-filled afternoon. 
A note of caution: there are many trails that intersect around the Lakes of the Clouds Hut so it is easy to take a wrong turn. Double check the correct trail for you so you do not accidentally bypass Mt. Monroe. We definitely headed the wrong way and had to reverse our course to fix our mistake. The climb up Mt. Monroe was not very long, but quite steep.
At 3:15pm, from the peak of Mt. Monroe, we could look back at the enormity of Mt. Washington and forward to the picturesque Crawford Path, a thin dirt track marked by rocky cairns weaving its way through the alpine. While the Northern Presis offer higher peaks and more rugged terrain, I preferred the slightly easier trail conditions and sweeping views of the Southern Presis.
Walking the 2 miles along Crawford Path to Mt. Eisenhower was a joy! Even after 13 miles, I would walk through this section for days. With bright sun and a few fluffy white clouds, the afternoon was a hiker's dream. Atop Mt. Eisenhower at 4:15pm, we rested against the gigantic cairn and once again surveyed the route we had travelled, marveling at the distance and feeling grateful for the bodies that carried us through such travails. Human ability and physicality is truly wondrous. We push our bounds and our comfort zone expands. The Presi Traverse is a prime example of that for us. There is no way we could have handled this distance and elevation a year prior. We had to trek and hike to build up our distance slowly over time. When you get a little stronger with each trek, you will be surprised just how far you come after months and years of effort.
In the next 1.7 miles toward Mt. Pierce, we ducked back below treeline for the first time since leaving Madison Spring Hut so many miles ago. With battered feet and tired legs, we tagged the slightly underwhelming summit just after 5:00pm and quickly descended the last 3 mile stretch of the Crawford Path to the AMC Highland Center and our waiting car by 6:25pm.
We ended our epic day with refreshing showers back at the campground and then drove to pick up our friend's car and eat dinner in town. We had plenty of calories to replenish!
Do a car spot or schedule a friend to pick you up at the end of the trail, if you can. There is a shuttle, but scheduling can be complicated 

Reserve your campsite in advance for summer or fall weekends

Don't forget that the Mt. Washington Sherman Adams Summit Building has food and drinks (note: they are only open from approximately mid-May – mid-October, check the NH State Parks Page here). You might be both angry that everyone up there took the cog or drove, but also grateful that you can eat a slice of pizza if your body needs it 

Pace yourself and take regular rest breaks. We tried to rest for about 5 minutes for every 1 hour hiking, not counting a longer break for lunch.

Carry emergency gear, but don't overload yourself. For the summer/fall, at least bring an extra warm layer (remember: weather changes quickly on the Presis), extra socks, rain gear, and a bivvy sack or emergency blanket.