Our first New Hampshire 48 4,000 footer! On a rainy and humid October day, we hiked Cannon Mountain and were blown away by the beauty of the White Mountains, even in suboptimal weather conditions.
| | | |
| --- | --- | --- |
| Segment Distance | Total Distance | Route Description |
| 0 mi | 0 mi | Start at Lafayette Place Campground |
| 0.4 mi | 0.4 mi | Lonesome Lake Trail to Hi-Cannon Trail |
| 2.0 mi | 2.4 mi | Hi-Cannon Trail to Kinsman Ridge Trail |
| 0.4 mi | 2.8 mi | Kinsman Ridge Trail to summit of Cannon Mountain |
| 0.8 mi | 3.6 mi | Kinsman Ridge Trail to Lonesome Lake Trail |
| 0.9 mi | 4.5 mi | Lonesome Lake Trail to Lonesome Lake |
| 1.1 mi | 5.6 mi | Lonesome Lake Trail back to Lafayette Place Campground |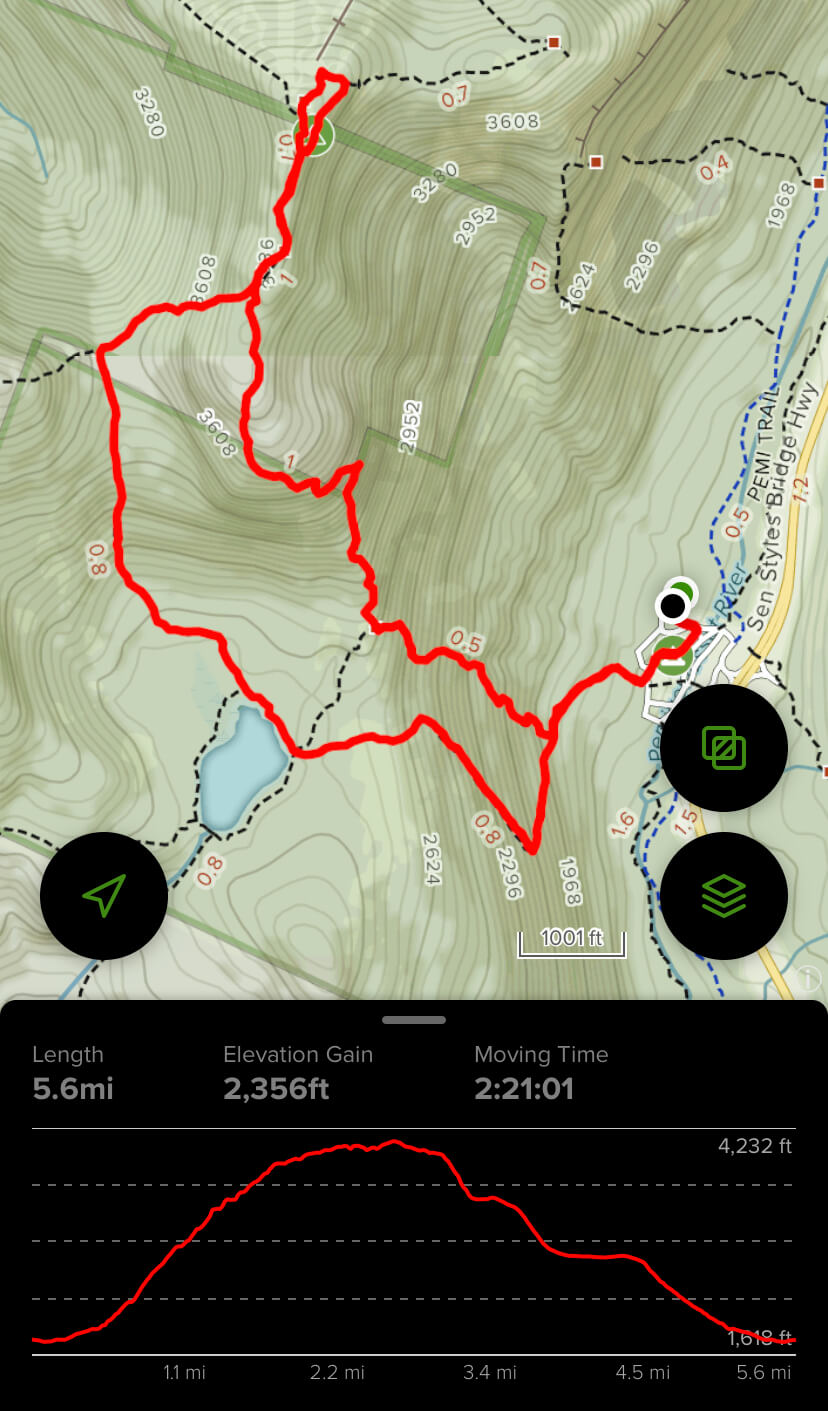 Cannon Mountain was our first 4,000 footer! We had just moved to Boston and Kevin was eager to take advantage of our new proximity to the mountains. We planned a camping trip to do both some leaf peeping and to see if hiking could become a more regular hobby. At this point, I liked hiking, but nowhere near as much as Kevin loved it. Cannon Mountain seemed like a perfect first 4,000 footer. It is on the "shorter" side (about 6 miles), started right at our campground (we stayed at Lafayette Place – it's a great base for exploring the Whites), and boasts beautiful views from the observation platform on the summit. 
Unfortunately, the weather for our first hike was not ideal. It was unseasonably warm for October, extremely muggy, and raining off and on. For a relatively novice hiker and person still learning to love the outdoors, these were not great conditions. That said, as we started hiking on Lonesome Lake Trail and continued on Hi-Cannon Trail, we quickly realized how spectacular the White Mountains were. The terrain was rugged, steep, and rocky, with hardly any switchbacks – we strangely like that. We were working hard and sweating within the first 20 minutes. We enjoyed the extra challenge of the ladder on the already rugged Hi-Cannon Trail (probably why it's on the Terrifying 25 list).
Shortly after the ladder, we came to some ledges that serve as wonderful viewpoints overlooking Lonesome Lake and Franconia Notch. We paused at a few of these to take in the beautiful yellow landscape dotted with green, orange, and the occasional red. The fall colors were spectacular even on an overcast day and even more vibrant when the sun peeked through. 
Past the ledges, we climbed a bit more and then joined Kinsman Ridge Trail. By this time, we had finished most of the elevation gain and were up in the subalpine spruce trees. That made for an enjoyable stroll after the rugged ascent we had up Hi-Cannon Trail. Once you get to the summit area of Cannon, there is a small loop that takes you to the viewing platform. Bear left at the fork for the most direct route or go right for some extra time on the mountaintop and views of Franconia Ridge across the notch. We didn't know which way to go and ended up going right. We were a little confused when we came to the Cannon Mountain Aerial Tramway building at the top of the ski slopes, clearly not the summit yet, but we found our way eventually. The tramway is a great option for non-hiking friends to meet you at the top – maybe to celebrate a 48 finish if you save this one for last.
During peak fall foliage peeping, many visitors take the tramway up and back, so you may see non-hikers enjoying the views next to you. We were more than a little surprised to find so much activity on the summit after hiking a mostly solitary trail. Regardless of crowds, there's room for everyone and the views are outstanding! (Cannon Mountain Sketch)
We descended by staying on Kinsman Ridge Trail a little longer to take Lonesome Lake Trail down to the lake that we had marveled at from the ledges above. If you're looking for a full service overnight in the backcountry, Lonesome Lake Hut would be a great option in a beautiful setting. Bog bridges made up most of the trail around the lake so we didn't sink into the marshy ground. After that, it was a quick walk back to Lafayette Place Campground.
After this hike, we were hooked on the Whites. We had never hiked anywhere like them and could not wait to get back. Immediately following this trip, Kevin went to the AMC site, printed out our White Mountain 4,000 footer application, and we planned our next hike.